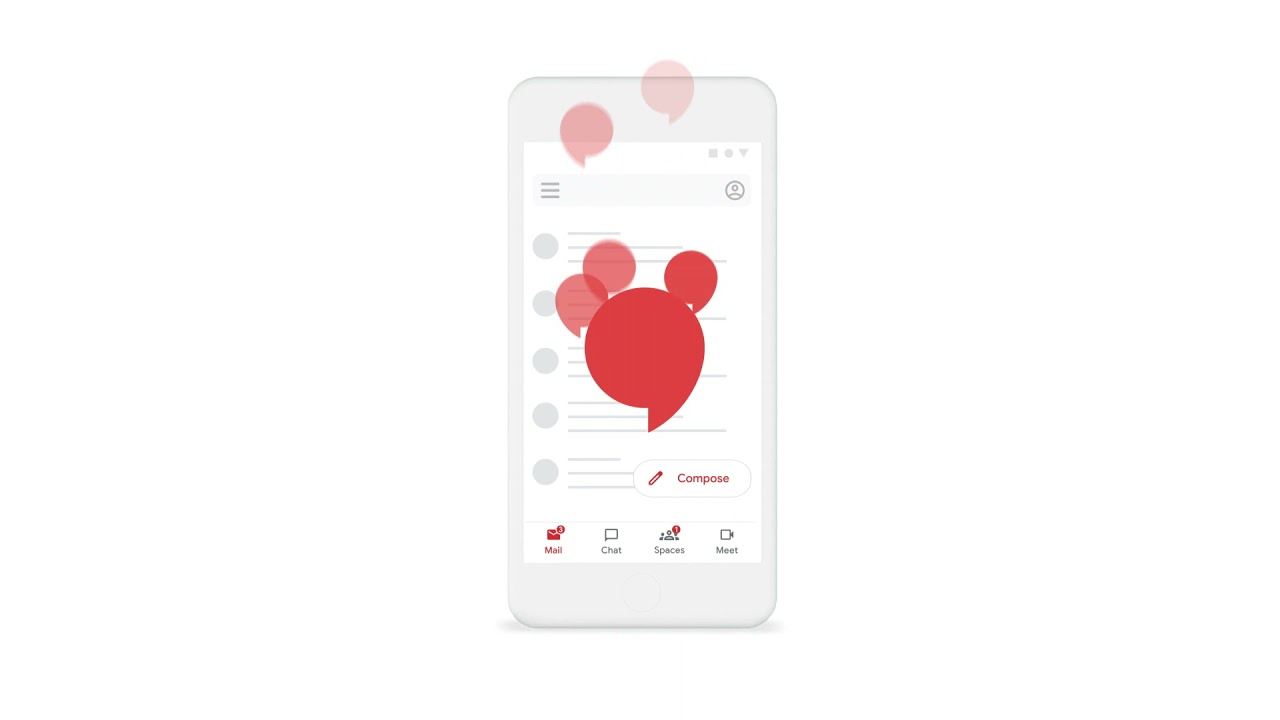 Try Google Workspace Free
New integrated Gmail quick start for Google Workspace users
Email, Chat, Voice and Video calling,
Files and Tasks are the foundation of how we work.
But because work happens in so many places,
it's hard to stay on top of what's important.
In the new integrated Gmail, we not only
bring the core elements of work together,
we make them better together.
Now you can access Chat, Meet, Documents, Tasks and more right
from Gmail across your devices.
You can switch between Gmail, Chat, Spaces,
and Meet using the navigation bar on the left.
No matter which tool you're using,
the icons are there for you to switch between these tools.
You'll always be in full screen by default when switching tabs.
However, you can open email or chat messages
in a pop-up window to keep the context
of your current conversation.
To do this, click the arrow next to the window.
Collaborate with spaces.
Through this new tool, teams of all sizes
can better organize around a project,
facilitate conversations on a topic of interest,
and easily share knowledge.
While Chat is for one off messaging,
Spaces help teams collaborate on ongoing topics
and stay connected.
You can also easily access files that
have been shared in the space and keep
track of what everyone is working on with a shared task
list.
You can also edit a shared document, spreadsheet,
or presentation with your team and discuss it
within the same window so you can keep the conversation going
while you work.
And if you need to discuss a topic live there's no need
to switch to Google Calendar and create an event,
just add a video meeting to the room
and members can join directly.
If you really need to focus you can turn off notifications,
so you're not disturbed during important times.
And when you search in Gmail, you
can see results from your Email and your Chat messages.
You need to complete a few simple steps to start
using the new Gmail experience.
First, your Google Workspace Admin
needs to enable the new experience
for your organization.
If you're a Google Workspace Admin yourself,
you can find instructions below.
Once the new Gmail experience has been enabled,
it should be available by default when you open Gmail.
If you're not seeing it, you'll need
to make sure Chat and Meet are turned on
in your Gmail settings.
For Gmail on the web, open Gmail, click Settings,
See All Settings, and at the top, select Chat and Meet.
Next, make sure Google Chat and Show the Meet section
in the main menu are selected.
If you make any changes, click Save Changes.
For Gmail on a mobile device, open the Gmail app
and tap Menu in the top left.
Next, tap Settings, tap the account,
and then confirm that Chat and Meet are turned on.
For more information and resources,
visit the Google Workspace Learning Center.
You are now ready to start using the new integrated Gmail
experience, your new home for work.